Forest City Quilt Company is a friendly online only fabric retailer specializing in pre-cuts, quilt kits and BOM products. Here you'll find a wide variety of high quality designer fabrics from today's most respected manufacturers, along with a delightful assortment of patterns and books. We offer very competitve prices, as well as attentive, personalized service, and prompt shipping of your orders...so you can get to work on your projects as soon as possible. Don't see the item you're looking for? Just let us know, and we'll bend over backwards, sideways, and beyond, to help you find it!

We are new and will grow all the time. If there is something that you are looking for, please contact me and I will gladly do special orders for products that are available.....at a better price!!

Welcome Fabshop Hoppers!! The bunny can be found trying to shop online!!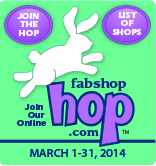 Thank you for stopping by to look. Check back often as new items will be added weekly!!



For the month of March....sign up for our newsletter and automatically get entered into a drawing for a FREE Kansas Troubles Favorites II Charm Pack!